Play ping pong in Montreal!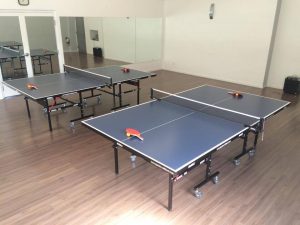 Here are a couple of details about the Fall session
Begins Monday, October 17
Duration: 10 weeks
Every Mondays, always at the same place
90mn from 7:30pm to 9pm
Easy and free parking
Level: recreative
Fees: 70$ + tax per player
Table tennis
Equipement: 2 ping pong tables
Number of players: 8
Beginning: Players come at 7:30pm and begin warming up.
Season game: When players are ready, single season games are played. There will be a little ranking! 🙂
Free games: After the season games, players wil play free double games.
The activity will end at 9pm.
[wpsc_products category_url_name='ping pong']
Contact us at 514-433-7734 or by email at lasm@lasm.ca to get very details.