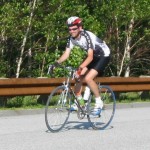 Go cycling in great places in Montreal and nearby thanks to MFSL.
Every ride is free! The aim is only to gather people to go cycling.
We prepare stages and you only have to ride.
If a lot of people ask for, we might propose to use a bus.
[important]
If you want to know our rides, look at our schedules page.
[/important]
How to join?
The best way to join our rides is to contact us by email or phone (514-433-7734). We might add yu to our mailing list so that you won't miss any ride.
Legal Notice
MFSL won't be responsible if you break your bike or are injured.